To describe the improvements in the UI and capabilities of Microsoft Office's new Hub, NotReal created a UX film integrating the abstract and the realistic while navigating through the app.
 In collaboration with the team, I created smooth and detailed animation to support the concept of a seamless organization where work and creativity flow together.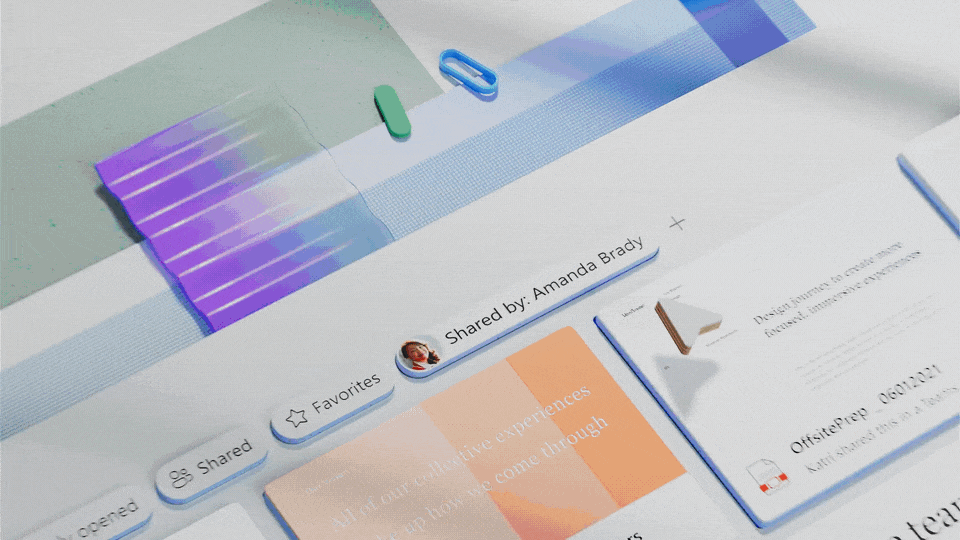 Credits:
Directed by NotReal
Creative Direction: Valeria Moreiro, Milton Gonzalez 
Executive Production: Roberto Connolly 
Art Direction: Flor Tasso
Animation Direction: Sergio Fuego
Line Producer: Lucila Mansur, Joana Cabrera 
Storyboard Artist: Joana Cabrera
3D Design: Flor Tasso, Alberto Carbonell, Linus Zoll, Josefina Llano, Vitor Teixeira, Carolina Carballo, Davide Rubini, Valeria Moreiro
2D Design: Manuela Caceres, Joana Cabrera
3D Animation: Sergio Fuego, Oscar Pettersson, Macarena Mosquera, Juampi Sciaccaluga, Carol Erique, Milton Gonzalez
2D Animation: Joana Cabrera. 
Simulations: Edvin Cindrak, Simon Fiedler
Rendering: Sergio Fuego
Composition & Color Grading: Milton Gonzalez 
Sound Design: Zelig Sound
Client: Microsoft 
Microsoft Team: Nando Costa, Anna Davies, Gretchen Thomas.
The material featured on this website is for showcase purposes only. All rights reserved to the copyright owners.